We learned the jig.
What else could we do?
We muffled our chuckles
as penguins like humans
kicked up their feet
to show little leprechauns
how to follow the beat
of strange pipes that blew
sounds of river's dance,
as lucky pots of gold,
parades of rainbows,
triad leaves of green
shaped our
futures
with good luck.
What else could we do
but graciously honor
the wealth of good heritage
they aimed to display?
We learned the jig
in a crazy old way
to show them our thanks
for their work so sincere
though we knew to their rules
we'd not fully adhere.
Still, we were happy to dance
their wishes accomplish
For on that day we knew
we would all be Irish."
I attended Catholic grammar school, where the good nuns (who looked like penguins in their black and white habits and were predominantly Irish), tried often in vain, to teach us the Irish jig.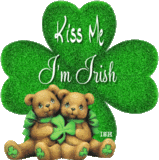 "May you have warm words on a cold evening,
a full moon on a dark night,
and the road downhill all the way to your door."
Irish Blessing
One Stop Poetry.
You can read some wonderful poetry there.)