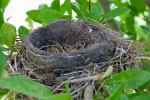 On June 29th at about 3:30 pm I got the fateful call. There were two beds in the same room available at the nursing home that agreed to accept the ladies (mother and mother-in-law). The days prior were marked with intensity after my husband and I informed them about the forthcoming placement. Mother quickly forgot about it. Alzheimer's spared her the anxiety of worrying about the move. Mother-in-law forgot the first few days. But gradually the reality of the impending drastic change in her life solidified. Concurrently, her anger, rebellion and depression grew.
To say that the move was difficult is like saying a tsunami is simply a change in tide. Adjustment has been hard on all of us. Mother has been more confused. "So, where am I?" has been her mantra. Mother-in-law has a deep death wish and has stopped eating. My husband and I futilely try to comfort her. But her hatred for us is as deep as her wish to die. Her behavior does nothing to ease our guilt.
My house seems empty now. My life too has a void I must fill. Slowly, I'm recovering from the grief and mix of emotions that have attacked me.
Today, I'm resuming my blogging. How I've missed it. Yet I did not have the sort of energy required to write anything. It feels good to make the computer's keys click. I hope to make my life click again too and to connect meaningfully with you my friends. Thank you for all your support.
I look forward to reading your posts.